Stop and Smell the Flowers
Spring has officially arrived in New York State and our parks, historic sites, and public gardens are exploding with a myriad of colors and fragrances. Here are just a few that we would like to share:
Em Mills Rose Garden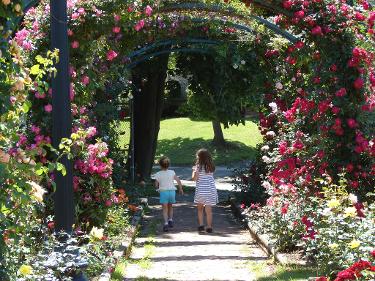 Em Mills Rose Garden is located in Syracuse, NY. This garden has over 3,000 rose bushes, and is beautiful all year round. Roses usually bloom in June, so there is plenty of time to plan your day trip!
---
Sonnenberg Gardens and Mansion
Sonnenberg Gardens and Mansion offers visitors tours of the estate, which include nine formal gardens. The flowers here vary from April to October. Check out their blooming schedule for more information.
---
Buffalo and Erie County Botanical Garden

Buffalo and Erie County Botanical Gardens has a garden for everyone, including the new Aquatic Garden and Asian Rainforest indoors, and seven outdoor gardens!
---
Planting Fields Arboretum

This state historic park has two main gardens for visitors to explore. Their main greenhouse is open year round from 10 am to 4 pm. A recent addition to Planting Fields is a Sensory Garden which allows guests to experience all 5 senses.
---
Wildflower Island
Discover Wildflower Island by guided tour April - September, or at Open Gate Days April 14, May 19, June 9, 11am–1pm FREE (ages 10+, no dogs).
Or, visit this website for secret parks and gardens around New York City!